Getting Started
Setting Up Your Account
When you first create your FormTab Account, you'll want to take a moment to familiarise yourself with FormTab Central:
Check/update your [Account info
Check/update your Profile info, such as time zone and date format
Check off the brief Tutorial items on the Dashboard
Renaming the default Project
By default you have one Project in your Account, called Default Project. You can change the name of this Project (and other settings) at any time.
Click the Edit button in the Project Switcher at the top of the page
Or click the Settings icon in the sidebar and click Projects
Updating the Default Team
When your Account was created, a Team was added to the Default Project and given the same name as your Account.

You can add as many Teams as you like
Adding Users
To manage the Users in your Team, click Usersopen in new window in the sidebar
The list shows all Users in the currently selected Team. If you have more than one Team in the active Project, you can quickly jump to another Team using the switcher at the top of the page.
To add a new User:
Click the Add Users To Team button at the top of the page

In the window that appears, enter the email address of the User(s) you wish to add, set their Role and click Save
The User(s) will be emailed a notification

Building Your First Form
Next you'll want to try out the FormTab Form Builder. It's really easy to use and will have you building fantastic forms in no time.
When you created your Account we added a couple of starter Forms and you'll find these in your Form Libraryopen in new window.
Feel free to open and edit these Forms to see how they're put together. Add, remove or edit fields. The best way to learn is to simply get your hands dirty!
Filling and Submitting Forms
Now it's time to start filling some Forms, to get a feel for FormTab in action. You'll see how easy FormTab is for your Users, if they can use an iOS or Android device, they'll be right at home in FormTab.
You can fill forms right in your browser in FormTab Centralopen in new window.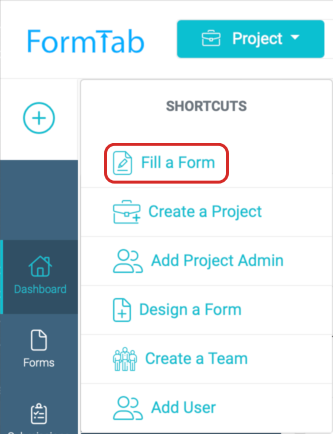 The best experience is using our native mobile apps - FormTab for iOS and FormTab for Android.
Managing Submissions
Once your Teams start sending in their Submissions, FormTab offers a number of ways to work with the data.
Use FormTab as your repository to store submissions
Export data for manipulation in another app
Integrate with your own systems to get the data you need, in the right format